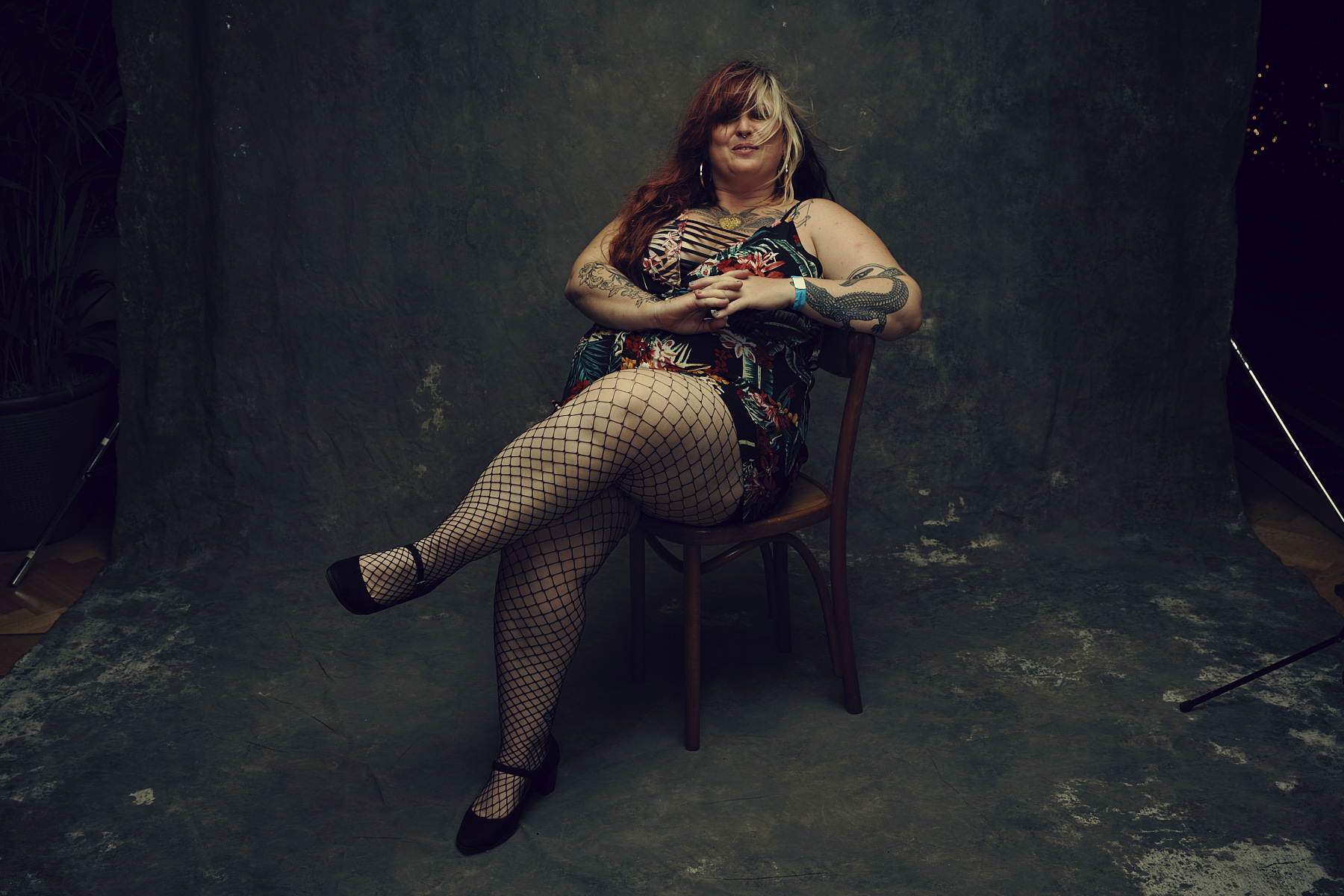 CAREER
Having established herself in a few years as one of the most flamboyant figures in the contemporary music, the American singer and pianist Sarah McCoy is back with GO BLIND, taken from her new album HIGH PRIESTESS, scheduled for early 2023. Recorded with veteran producer Renaud Letang (Feist, Keren Ann, Charlotte Gainsbourg…) and under the benevolent wing of Chilly Gonzales (known for the intimate touch of his Solo Piano albums and his collaborations with Jarvis Cocker, Feist, Drake or Daft Punk), these new works mark a turning point for the accomplished singer-songwriter, whose powerful voice reveals painful cracks.
Having fully-mastered the solo exercise of her first album BLOOD SIREN (2019), Sarah has evolved towards modern, electronic, even futuristic sounds that a whole new audience will discover, while keeping that visceral song-writing conviction brought to us straight from New Orleans and that earned her an instant adoption in the European jazz/blues scene. 
« I'm not sure anyone can define the "genre" of High Priestess, but it's surprisingly friendly for the intensity of the music… It's all about the atmosphere in which the songs were born. New Orleans is a very specific anomaly in the United States, and that's where I nurtured this Blood Siren music that is both somber like a haunted bar at the bottom of the sea… and light like a head in the clouds. With the new album, it's more like hands in the ground. When I sing High Priestess, I'm tackling something very different. It's a dissection of my personal relationship with myself. »
– Sarah McCoy
MEDIA QUOTES
"The High Priestess continues her turn to pop […] The deep feeling remains in a storm of emotions."
– Telerama

If you close your eyes, you could hear Nina Simone, Billie Holiday, and Amy Winehouse – FIP
She performed her songs with such conviction, it felt real, no frills, no gift wrapping, she just poured out a flashy melancholy. Rumble, roar… we didn't know, in the next second, which way she was going to go. 
– Djubaka, Par Jupiter, France-Inter
One cannot deny that she is special, unpredictable, because she herself never stops assuming her completely crazy side. But, going hand in hand with her unvarnished frankness, her petulance and her invigorating humor, what generosity! – Ouest France
BIOGRAPHY
Born in South Carolina in 1985 into an Irish Catholic family, Sarah McCoy classically trained at the piano training during her teenage years. At the cusp of adulthood, she couldn't take it anymore and set off across the United States, leaving both the piano and the family yoke behind. With nothing but a guitar slung over her shoulder, Sarah travelled the American roads from East to West for five years before settling in New Orleans.
It was during these years of travel that she discovered her voice. To avoid falling asleep at the wheel, Sarah sung at the top of her lungs thinking «Wait, does that sound good? I think that does sounds good? … Sing! Louder!». It was at that infamous New Orleans piano bar, The Spotted Cat, that she reconciled with the piano and spent five years as an artist-in-residence where she found a new and rare freedom of expression and musical experimentation. Alone or accompanied, she played frequent regular sets as is customary in these venues and sharpened her skills.
It is there that in 2013 she was seen by the French documentarian Bruno Moynié who, knowing people in the French music business, booked her first concert in France. After a noticeable performance at the Parisian festival Les Nuits de l'Alligator in 2014, she came back to play several times in France and decided to settle in Paris in 2017. Recorded at the mythical Studio Ferber with Renaud Letang and Chilly Gonzales, her first album BLOOD SIREN was acclaimed by the press in France (ffff and "Best World Album 2019" Télérama, 4* and "Twenty best of 2019" Nouvel Obs) and in Germany (Vogue, Stern Magazin).
HIGH PRIESTESS is the result of a close collaboration between the singer-songwriter and her producer Renaud Letang. It is at the beginning of summer 2021 that Sarah arrived at the studio with two years of melodies, beats, arrangements, sounds collected in the street and in nature, and even a poem Eat the Peach Until the Pit. HIGH PRIESTESS is an album to be experienced, therefore, to the core.